Home
Talk

4
1,216pages on
this wiki

Marvel Heroes was founded on March 2012, and currently has 1,216 articles and 5,761 pages.
This is a wiki about Gazillion's MMORPG Game Marvel Heroes.

Marvel Heroes is a FREE-TO-PLAY action-packed massively multiplayer online game created by David Brevik, the visionary behind Diablo and Diablo 2. Set in the iconic Marvel Universe, Marvel Heroes combines the core game-play style of Action RPGs and MMOs with the expansive library of heroes from the Marvel Universe.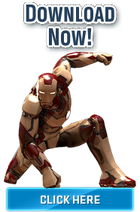 ***Marvel Heroes Official Survey***
Take this Official Survey to tell the DEVs what you think of the Game!

Current Active Staff:
MarvelSeer | MarvelGeist [Admin]
Spot Open [Information Supporter]
Spot Open [Social Manager & Undo Master]

So you're looking to work with us. Here are our open positions.
[Chat Moderator]
[Information Supporter]
[Social Manager & Undo Master]
Apply below!


Everyone Happy with all the Work the DEVs have put in?